Amid his splendid A/W '19 menswear appear in Paris - which took fifties-style suiting and deconstructed it a few times over - fashioner Thom Browne discovered time to handle the design week hairdo to end all mold week haircuts.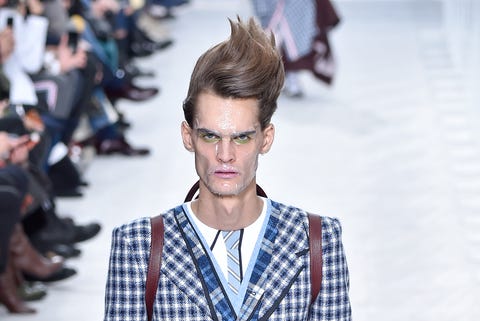 One part Dr. Seuss, two parts the chewed plastic eunuch on the end of your Year 4 pencil, these were coiffures that defied the laws of menswear and gravity as we know it, feats of follicular engineering that involved lots of hairspray, lots of boulder-jawed models and (probably) lots of hair extensions from far flung lands. And they were very, very fun.
What better approach to liven up the mail station drink than with an additional expansive '99 of human hair and Dax Wave and Prep? Think about the 2019 advancement prospects, as well: what a fine head of hair, your line supervisor will say, get that man a compensation rise: detail. Very much coordinated, as you'll presumably require it to pay for the sundae-chiseling unit.
In a universe of homogenous short-backs-and-sides, the form troll is the cover to give male preparing the shake up it needs in 2019. Going to a barbershop window close you. Perhaps.